There's something magic about the Night of the Arts in Helsinki. The whole town's abuzz with every conceivable artist putting their craft on show and if the weather plays along like yesterday, there's not a lot of places I'd rather be at at that particular moment in time. That being said and this being the third year in a row we've played the same festival, it's funny how every time before the gig I ask myself whether this is really a good idea. Last year was the album preview gig and we hauled along a tent, lighting equipment, a PA system, recording equipment, a generator as well as a video crew of likeminded friends. Now while that was a lot of fun and totally worth it as well, I just didn't feel like doing anything even remotely like that this time around. I actually felt more like taking only our instruments and setting up somewhere on the grass, pure hippie style!
So when we arrived on location with Karza, we had a quick look around, saw that the dock we've played on for the last two years was in the shadows (nothing new there, it's been that way every year, obviously) and instead opted for a perfect sunlight spot just some 20 metres away. Sorry to anyone who was looking for us on the dock and therefor missed us, although I do hope the music was still somewhat audible over yonder...! Almost managed to confuse Joel though, who was on drumming duties and had agreed to meet us at the usual spot...
Anyway, it was time for something new and uplifting and so I decided to change my wardrobe from the previous gigs (Karza's comment: "Thank fuck!"). I just wasn't feeling it anymore. Funny thing though, totally by accident, Karza wore the same shirt as at last year's gig. And they say men don't notice these kinds of things! When all it takes is editing hours and hours of album preview show video footage to help them remember... 
Again, back to what I was saying – I wanted this gig to feel more like a cool hangout with friends, with us delivering an upbeat soundtrack to a warm summer evening. Nothing too artsy-fartsy – it just didn't fit the concept in my mind. So we decided to play A LOT of new tunes and just two actual old ones if you count 'The Hula Hoop Shakes' as new, too. Joel playing away on his Loota kit, Karza on bass (!!) duties and me doing me, it just felt fresh and invigorating in my mind, and I hope it felt like that for the audience as well. Totally made up a whole new verse for 'Beggar Princess' because I just couldn't remember anything but the first word of the third verse – which I believe is the word "I", which again is actually only one letter, so... kind of a poor showing from me and my brains to be truthful! Didn't botch a single one of the new lyrics though, so go figure...
We brought some air sofas for the front row, people were dancing, people were clapping along and people generally seemed to have a good time. Sold a lot of t-shirts as well – thank you, You Know Who! It all definitely felt like something new and different all around. Like a new chapter beginning.
We played:
01. The Hula Hoop Shakes
02. The Ceiling (NEW)
03. Soar (NEW)
04. Unfinished Business With The World (NEW)
05. The Light Upon The Hill (NEW)
06. Beggar Princess
07. The Fairytale Waltz
08. Agents of the Change (NEW)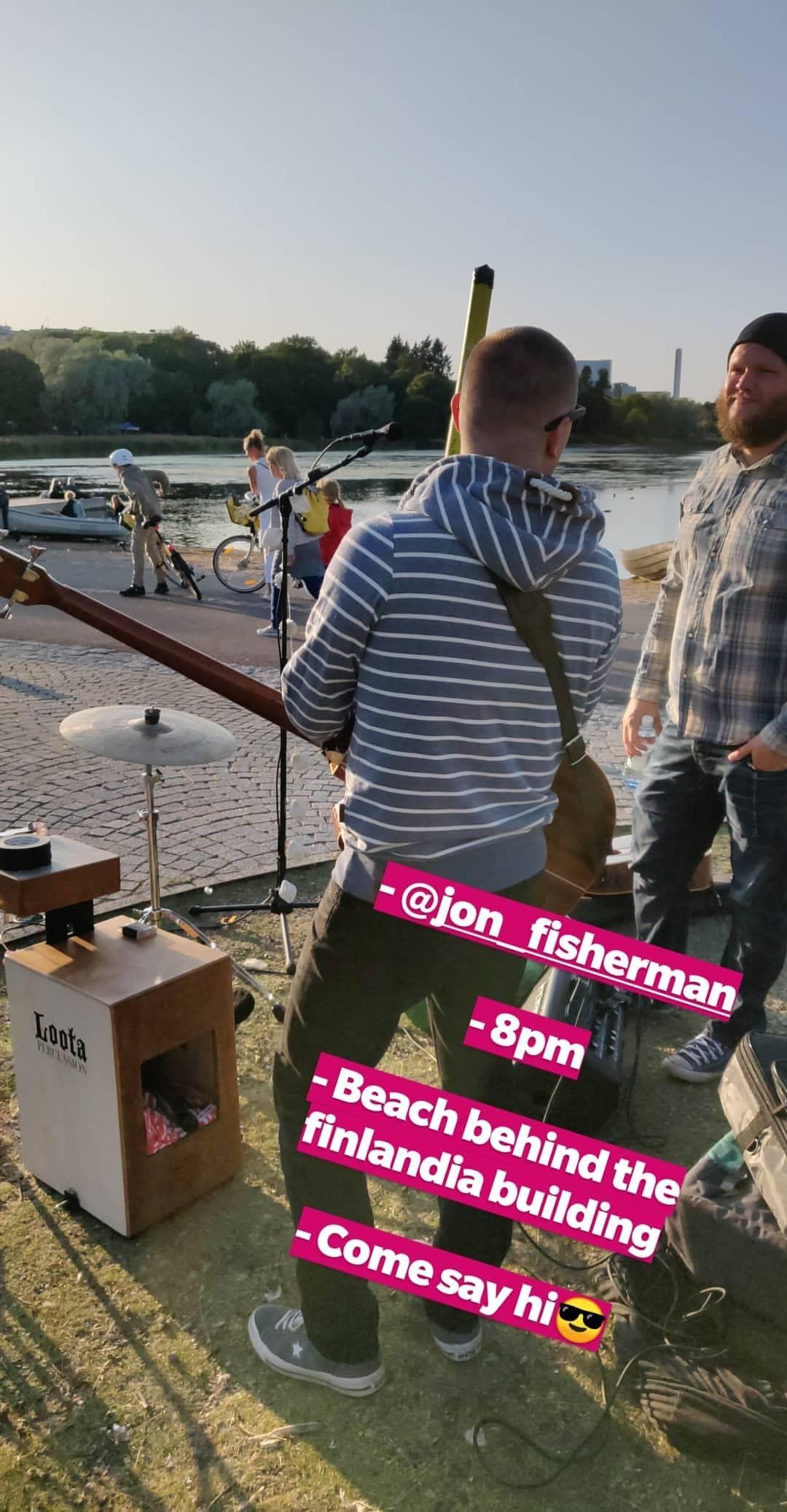 Snapshot from Joel's Instagram, moments before the gig. And while yes, those are goose feathers on the ground; no, we didn't step into any of their poo. They had a separate lawn for that...