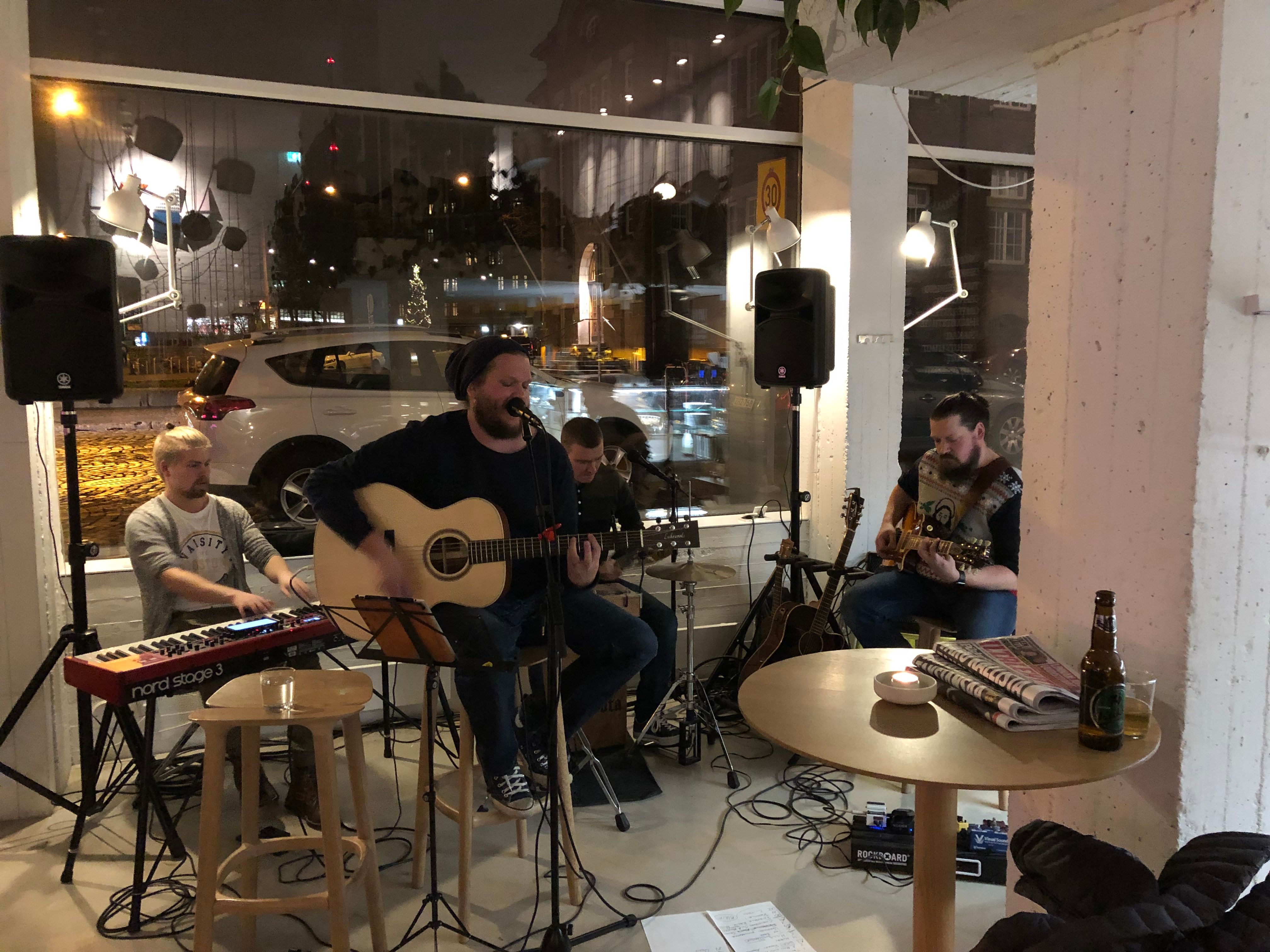 Pic by Lisa. Note Tuukka's Christmas sweater!
Bringing your own kids to gigs always leads to two things: total anarchy and therefor, most likely, a good time. So mine and Tuukka's girls (no boys in this exclusive club!) decided to man the balcony at IPI and shout down wishes and more importantly: suggestions. All of this to the continued amusement of a lovely crowd of people who'd gathered to watch our (last ever?!? Well, at least for this year) acoustic show. And we'd decided to mark the occasion by letting our audience choose a few of their favourite Christmas songs via Facebook and also premiering our brand new Christmas track 'Christmas On A Mountain'.
But to be honest, we decided to use the gig at IPI to evolve our sound more towards club shows, so we weren't strictly speaking acoustic anymore; Tuukka rocking out on his Les Paul and Joel conjuring up all kinds of sweet sounds on his keyboard. And this was Karza's last gig on the Loota for now as well an there's a whole new band member you have yet to meet... But I'm getting ahead of myself here. More on all that...ummm...yeah, tomorrow. Rest assured though, the only thing I'm changing is my outlook on life...I mean my posture. I'm gonna ditch that bar stool and finally be able to do all my nervous dances while singing and swinging. Been a long time! 
Anyway, IPI is still one of my favourite places to play because for some strange reason the sound is always remarkably good there although the architecture definitely suggests otherwise and the staff there are nice in the most extremely positive stretch of the word. And the food...wow! I kinda actually want to live in that place, come to think of it.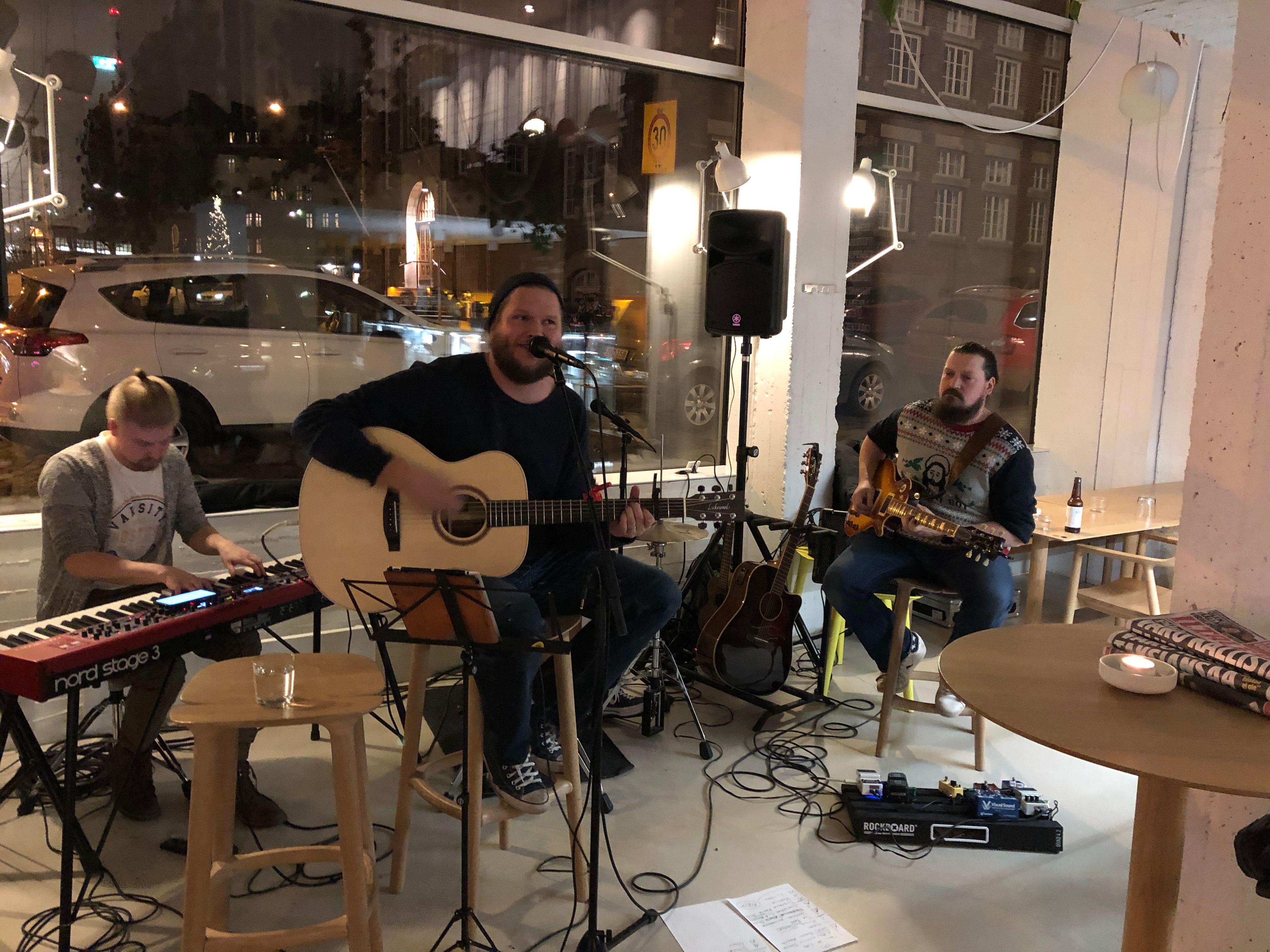 Pic by Lisa.
So anyway, on to the gig itself. I think we played for an hour and a half or something. So, longest gig 'til date. Heikki, our sound engineer of the evening had conjured up a lovely sound for us on stage and for the people in the audience as well apparently, so it was a joy to play. 
We started out with a couple of our own songs and plunged into our first Christmas offering 'Rockin' Around The Christmas Tree' with me on ukulele. Everybody had a solo in it, even Karza pulled out a burner out of the very limited natural resources of the Loota. A few songs on I broke my first string of the evening during 'The Bear' which meant we had to skip Skinny Dip completely and for me to play 'Christmas On A Mountain' with one string less. Both because those two minutes of changing a string and tuning it are the worst kind of entertainment there can be. Can't afford guitar techs. Yet... 
So all of that caused a bit of confusion, mostly in my own head, I'll admit, so I decided to play our next Christmas cover 'Varpunen jouluaamuna'. I felt like I hadn't completely put the commotion in my head to bed during my rendition of that particular song or as Tuukka more aptly put it "I felt like having another beer." 
So when I thereafter apparently made my daughter cry with 'Reptile I' (which sounded great! I love doing it now that I've gotten somewhat used to not playing anything on it) my daughter's friends audibly plead to us to "play a happy song for Christ's sakes!" from the balcony. Lucky for us we were able to oblige with 'Life In The Service Of Others' (not exactly happy, but upbeat atleast) and 'Beggar Princess' (happy, yes, check!). I don't know what would've come raining down on us if we hadn't managed that twist. I happen to know there were some edibles upstairs... 
Anyway, the last Christmas cover was cheekily suggested by my friend Maquée (who features on the studio version of 'A Man With No Dance') on the Facebook poll and completely tore the roof off; the last Christmas cover obviously had to be a cover of... 'Last Christmas'. And yes, we incorporated a singalong for the audience. Because that's what you do if you were raised right. I don't trust anyone though who claims to know what the hell happens in those verses. I don't believe there's anyone who does. I certainly don't count myself as one of them. 
After that Tuukka soon kicked his bar stool to the curb and we rocked out to 'Stuck With A Rhyme' and 'Ugly' to close off the show. 
Really enjoyed chatting to friends and meeting new people after the show. What I really love about these small shows is that you actually get to chat with the people who came to see you and get to know them just that little bit at least. 
Thanks everyone! We really loved playing for you guys. Have a lovely, relaxing Christmas with the people that make you happiest! 
We played (although I'm somewhat fuzzy about the order down the middle...)
01. Trail of Lies
02. A Man With No Dance
03. Rockin' Around The Christmas Tree
04. Hurry
05. A Song For The Hills
06. The Bear
07. Christmas On A Mountain
08. Varpunen jouluaamuna
09. The Fairytale Waltz
10. Reptile I
11. Life In The Service Of Others
12. Beggar Princess
13. Last Christmas
14. Homesick
-----
15. Stuck With A Rhyme
16. Ugly