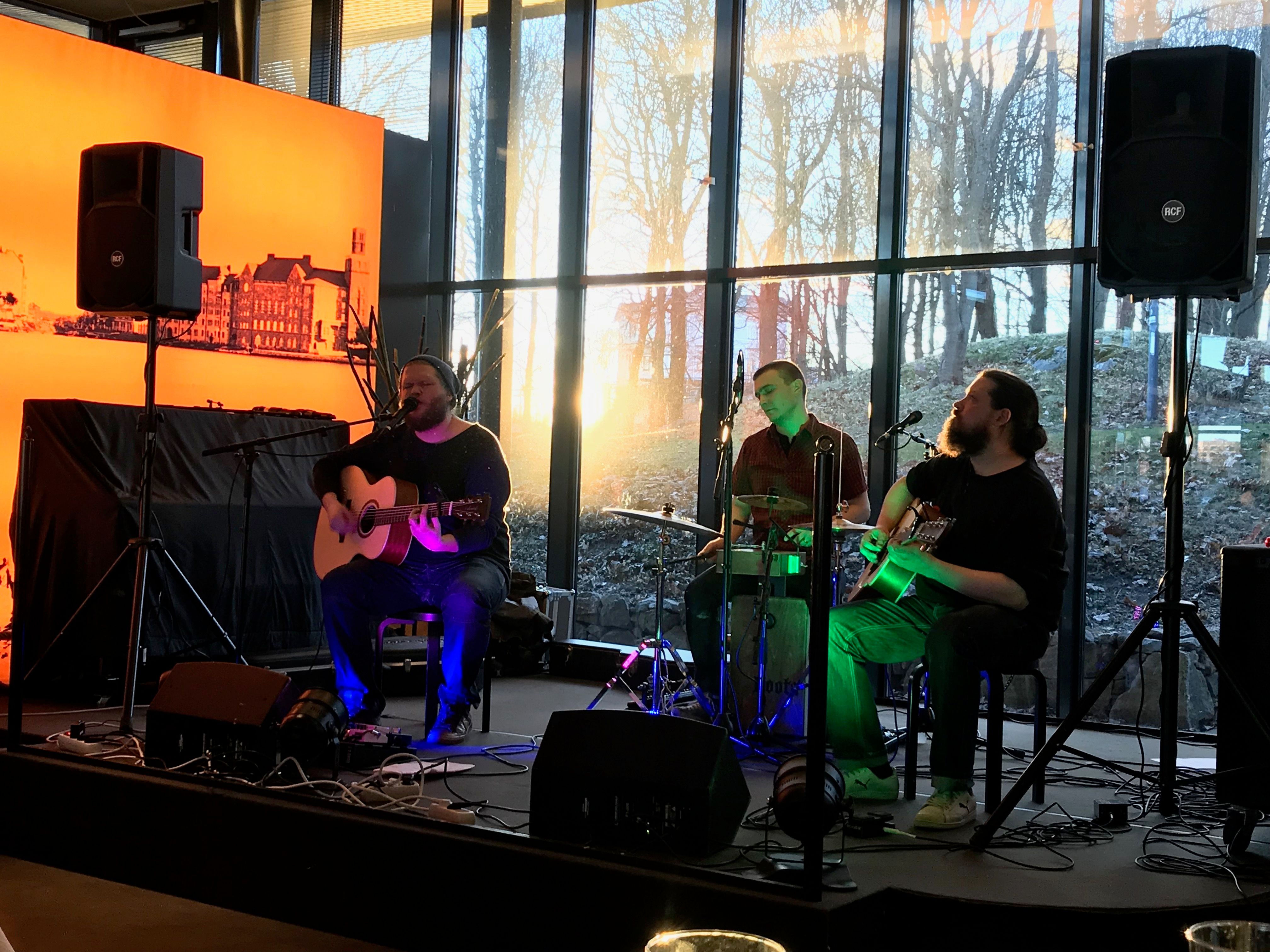 Photo by Lisa Tirkkonen.
Spring has hit our shores. The days are longer and the sun warms your face while in the shadows you can still feel the last chills of winter subsiding. So what better way than to celebrate that spring on a Saturday in pretty much a glass cube at one of Helsinki's numerous bay shores; in other words: Café Piritta?! Rhetorical question, of course.
Also, remarkably, this marked our first gig together with no free admittance. So of course you're left wondering if anyone's going to pay to see you play after having seen us at one of those café or pub gigs. And, remarkably yet again, Café Piritta was packed! I couldn't see an empty seat for the life of me. Obviously this was only in small part thanks to us. We were sandwiched between two great bands this evening; Elina Teini and Tuuletar. And the recurring club night "Iholla" that we got to join on this gig is a well organized affair top to bottom and the wonderful ambience of Piritta just seals the deal.
But yeah, even me being my own staunchest critic, I have to say that when with ticket prices you have the possibility to have a good PA and someone sitting behind the desk mixing your sound, I think the investment made by the listener at the door does pay off nicely. At least I've not yet been showered with so much praise for the sound of the band at any previous gig as I was with this one. And I have to say that it was probably the first gig that I felt comfortable playing back to back thanks to adequate monitoring and a soundguy who knew his shit. Obviously we'll probably still play some crazy shows parked somewhere on a seashore with a rudimental PA, but I have a feeling that the people who heard us at PIritta won't want to go back to a more organic sound when they have the chance to catch the "upgraded experience". And the upgrades are coming, don't you worry!
Anyway, we were booked to play for an hour and so we obliged with the longest set yet, with a few songs we haven't done in a while and a new one called 'Homesick' featuring me holding the longest and highest note that I can muster. Worked beautifully though, I guess.
We played:
01. A Song For The Hills
02. Stuck With A Rhyme
03. Beggar Princess
04. The Fairytale Waltz
05. Trail of Lies
06. The Funny One
07. Life In The Service Of Others
08. Skinny Dip
09. Hurry
10. Homesick
11. Naive
12. Ugly
Such a great night out with the guys! We had time to relax before the gig – well, Karza and I did, while Tuukka had to take care of a little kid's birthday logistics – we didn't have to rush the soundcheck; it was just an overall nice step into a right kind of direction where you don't have to take care of absolutely everything yourself starting with the technical set-up.
Also saw some old friends that I never expected to see, but they'd parked their kids at a relative's and marched over to see us play over a nice dinner. I think it must've been their wedding a few odd years back that I last saw both of them. Funny how little things like that make an evening even more special.
Peace and love to everyone who came – you were an absolutely lovely crowd that we very much enjoyed playing for! Even if the promoter told the crowd after our show that "this was probably the most rock'n'roll show in the club's history". But I'm pretty sure she meant that as a good thing. I mean, rock'n'roll is a good thing, right? Believe it!
See you next month on the 19th at the Arabia Street Festival or June 6th at Semifinal!
Take care!
-Jon