With this second leg of our tour promoting the 'Beggar Princess' EP we wanted to try something that I haven't heard too many bands try over here: playing coffee houses the way bands do in the States regularly. It's such a wonderful way to reach new listeners over a cup of coffee, tea or what have you. So that's why we took it from the streets to select coffee houses in our native Helsinki.
Obviously the coffee house gig culture is nowhere near as evolved here as it is in the States, but I knew that when I started contacting all the cafés I had on my list. So it didn't surprise me at all that the answer I heard the most was "You want to what? Err...sounds crazy, man. Thanks, but no thanks!" Still, we managed to book three cafés with staffs that had an open mind and weren't afraid that we'd come blast their customer's ears with high volume death metal. Here's a little round-up of the gigs:
September 29th – Bulevardin Kahvisalonki
After the last street gig at Hirsitetris I actually thought we'd be taking the rest of September off. But the people at Bule wrote back so soon after I'd emailed them and offered us this date that I just thought "oh well, let's do this!" But I also wanted to treat our listeners on this tour to some new songs, so we sat down with the guys and rehearsed two new songs for the set, "A Man With No Dance" and "Skinny Dip". Skinny Dip I'd written just two weeks before the gig, I think, but I instantly knew it was the kind of song still missing from the album, so I played it to the guys at rehearsal and talked them through the arrangement I had in mind. They immediately picked it up and it sounded great. We've since even managed to record it for the album and I'm so happy to have at least one song on there that features Tuukka and Karza playing as well.
The gig itself is more or less veiled in a haze for me. I remember having had a terrible day at work and having to rush into the gig without catching a real breather during the entire day. But the people – and it's always about the people! – seemed to enjoy the set and we even got to play Beggar Princess a second time by popular request as an encore. And the new songs went down well, too. So, all good in my book!
We played
01. A Song For The Hills
02. Beggar Princess
03. Stuck With A Rhyme
04. The Fairytale Waltz
05. Life In The Service Of Others
06. Trail Of Lies
07. A Man With No Dance
08. Skinny Dip
09. Hurry
10. Beggar Princess (encore)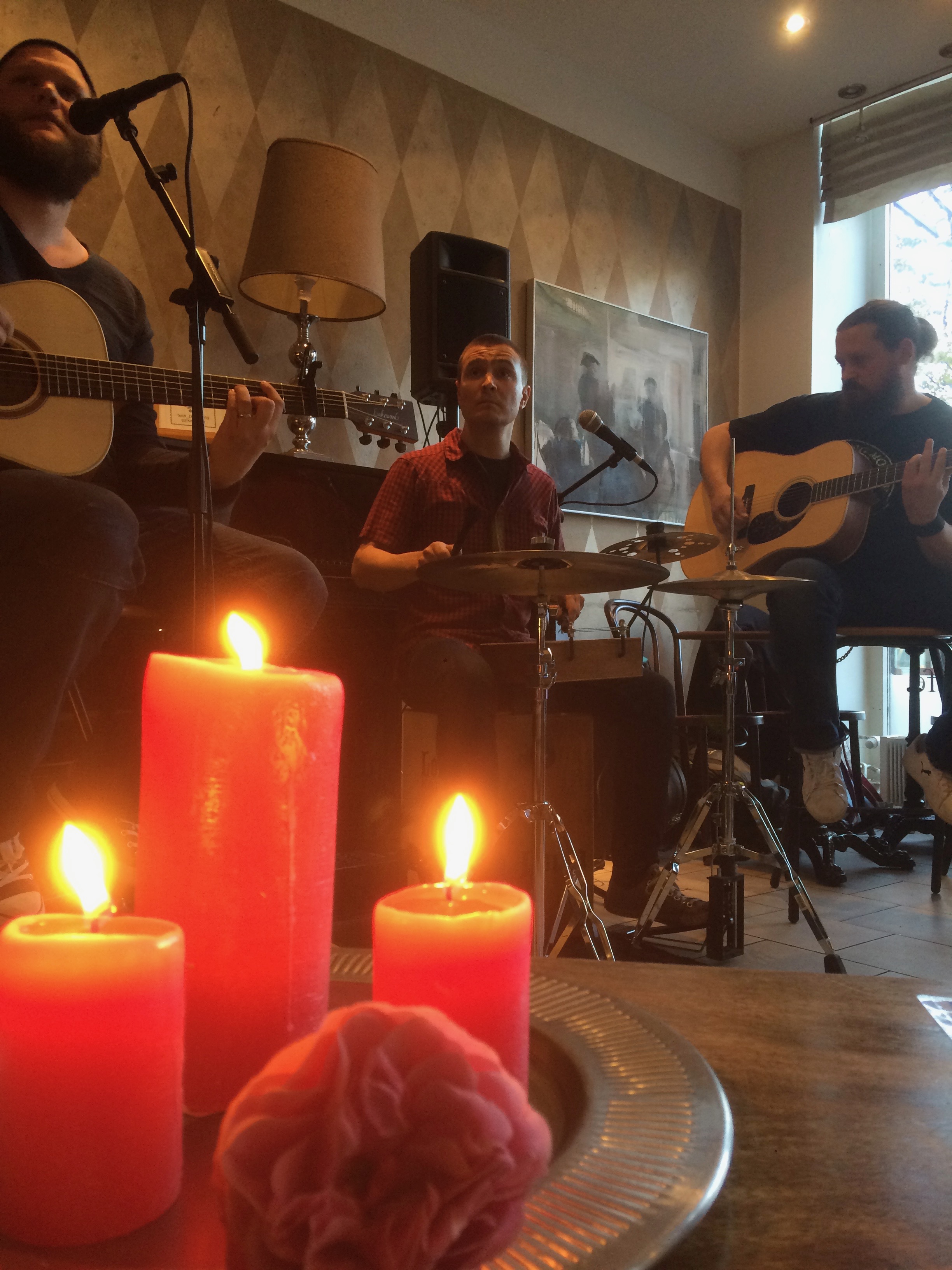 Pic by Jacqueline of All Trades
October 21st – IPI Kulmakuppila
Never been to this café before, but now I want to go back again! This place was home to the most uncomplicated and forthcoming staff imaginable, always greeting you with a smile, more food than you could ever eat before a gig and just an overall nice and warm ambience to the place. I'd had a sore throat and the flu for the whole week leading up to the gig trying to oil my vocal chords with some tea and honey, but I was really weary of what I was going to be able to pull off vocally that night. We'd had our last rehearsal the Tuesday before and I'd struggled through two songs after which I just had to stop singing 'cause I'd ventured waaaayyy beyond any even remotely cool Tom Waits territory. Karza was also sick the day of the gig, so the signs weren't looking too good for this one. So of course it turned out to be the best gig of the whole tour! After double headlining openers Kaikuluotain (check 'em out! They're really able to generate a great mood with their performance.) we took the stage with Stuck With A Rhyme and a host of technical difficulties which luckily enough got resolved before we got to our second song. But apart from that and some of my least on point stage banter yet, that whole show evolved into a really cool gig and everyone there just seemed to be really into it. Lots of smiles and warm applause, almost familiar at times. Just pretty much exactly what I envisioned a coffee house mini tour should be all about.
We played
01. Stuck With A Rhyme
02. Hurry
03. A Song For The Hills
04. The Fairytale Waltz
05. Life In The Service Of Others
06. Trail Of Lies
07. A Man With No Dance
08. Skinny Dip
09. Beggar Princess
10. Ugly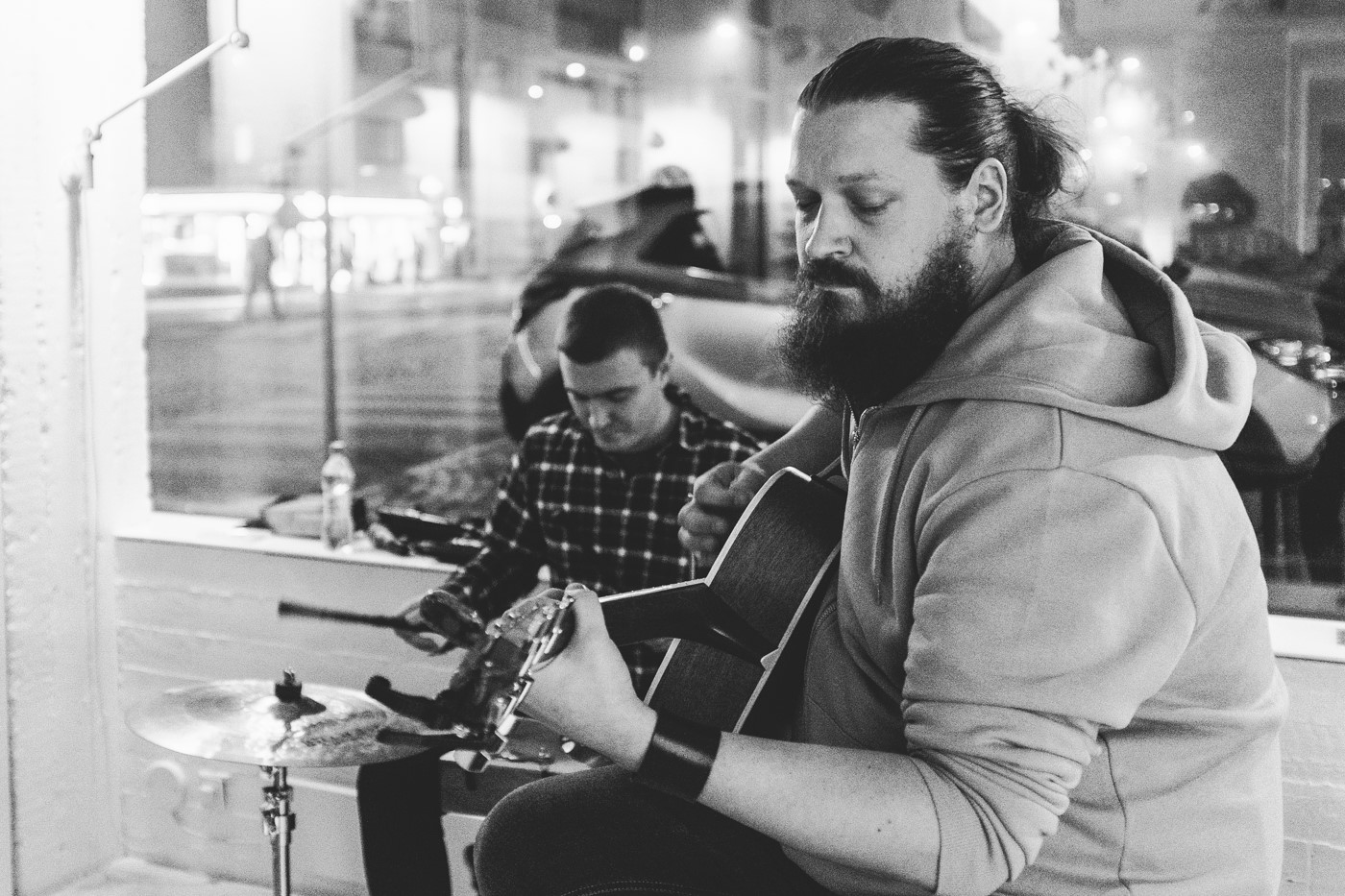 Pic by Nani Annette
November 11th – Café Roasberg
For the final show of the mini tour we'd managed to book a gig at Café Roasberg, basically as central a location as it gets in Helsinki. It's a really cool place with a nice chilled out vibe, just a place you can sit and not notice the hours flying by in. And they even have a basement floor with a nice little bar and some nice decoration. We played the basement floor with the same busking equipment that we did our very first gig(s) with at the Beggar Princess launch at the Night of the Arts back in August. So a nice little full circle moment there. Probably the funniest thing of the whole show was Tuukka's daughter pulling up a chair literally just three feet away from him towards the end of the gig and staring him down like the harshest imaginable judge at one of those talent shows on TV. Oh, and in between songs she kept asking me why I insisted to sing in German (I didn't!). I died though, funniest thing. Weird playing these gigs though where you have no idea what it sounds like to the audience and instead you just go with your gut. But the people seemed to've enjoyed the whole thing, so all good, I'll say!
We played
01. A Song For The Hills
02. Stuck With A Rhyme
03. Hurry
04. The Fairytale Waltz
05. Life In The Service Of Others
06. Trail of Lies
07. A Man With No Dance
08. Skinny Dip
09. Beggar Princess
10. Ugly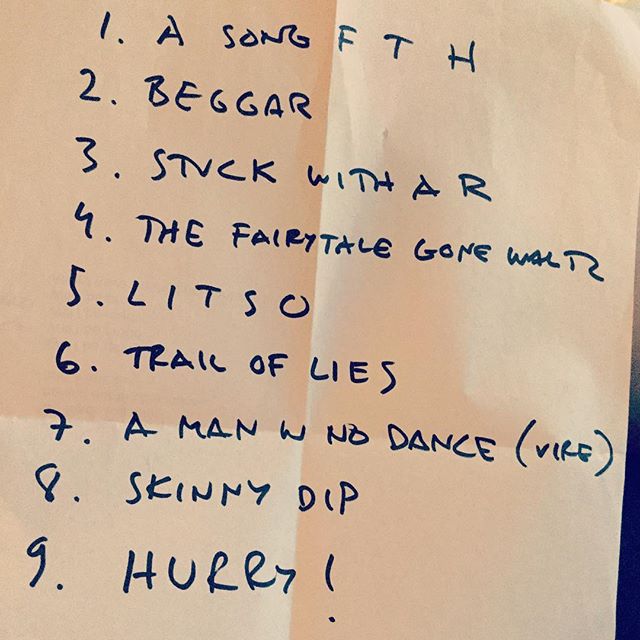 Pic by Karza
Thank you to everyone who took time out of their lives to catch our small but ever growing band live on this tour! Thank You! You make it all worth the while. We wanted to try and do something new with this tour and the experiences we've gathered are both enlightening and encouraging. Let's see what we'll cook up for you next...
Meanwhile, still two confirmed gigs to come: December 9th @ Dubrovnik Lounge & Lobby, time TBC and January 20th @ Vastarannan Kiiski, 8pm
Lots of love,
Jon