Bar Loose, Helsinki – March 9th 2023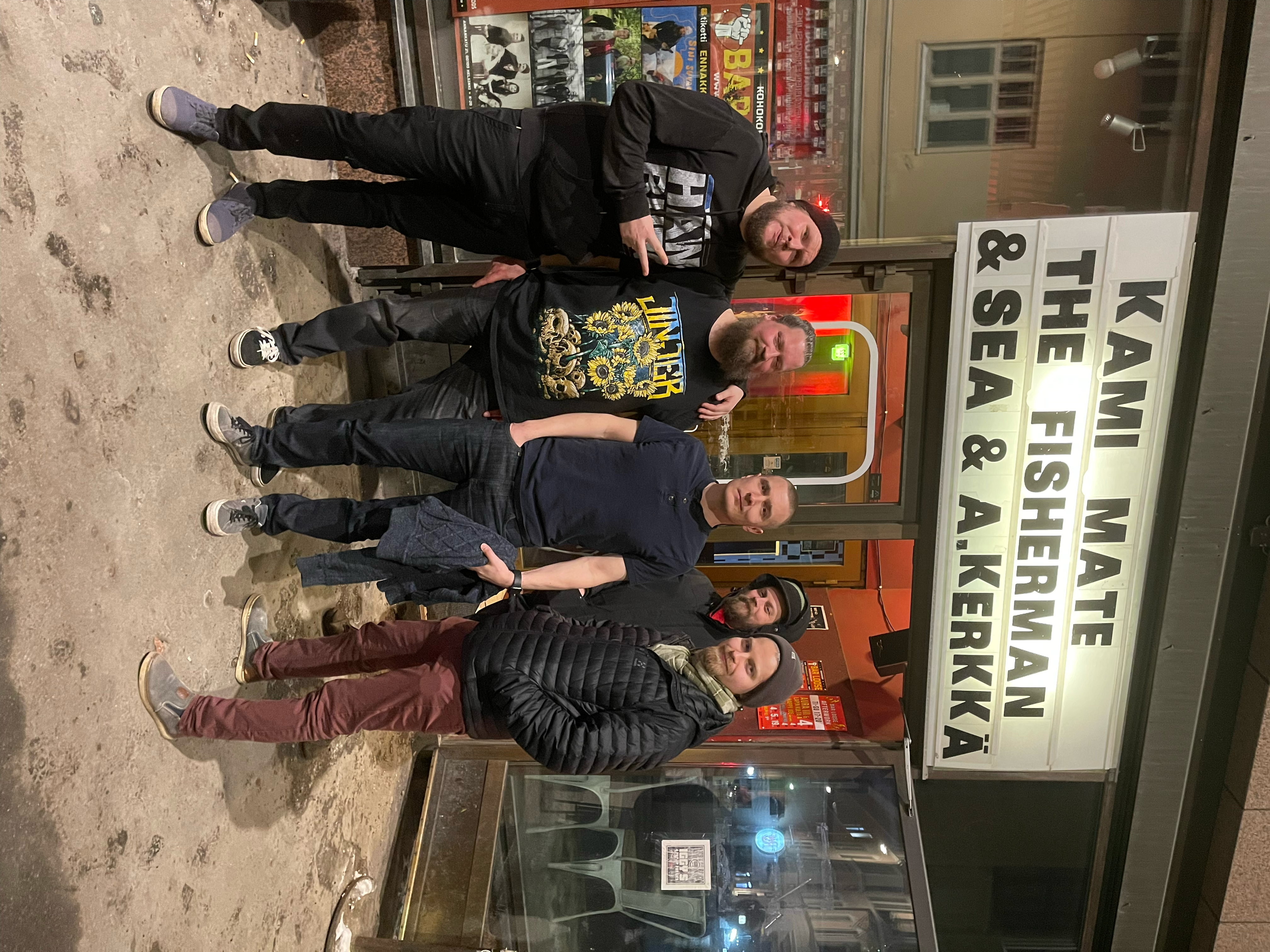 Weekdays are a struggle for sure. That's why we're extra thankful to everyone who came out and partied with us tonight at Bar Loose in downtown Helsinki!
On Monday we were informed Motion in the Ocean who'd booked the show in the first place would have to cancel their show due to illness and doctor's orders. So for a moment I probably thought what anyone would think "is this gig even happening then?" But sure enough the Bar Loose staff assured us the gig was still going ahead as planned and I hit up our old pal Antero Kerkkä and asked him if he'd like to fill in on short notice. And sure enough he did and brought his whole band with him, bless his soul! They were playing a gig on the road the next day so sleep was an issue, but nonetheless they agreed to come down and bless us with their roots-americana fused with Finnish folk. Loved it!
We played before them, opening the whole night and because in my mind Bar Loose had a reputation as a punk rock bar I figured we'd pull out all our fastest and rockiest tracks. The guys assured me though that the bar featured a wider array of music, but I wanted to see if we could pull off a sweaty take-no-prisoners kind of rock set. And sure enough we did! Doesn't hurt to have a back catalogue of about 50 songs at this point either…you're almost bound to find a bunch of songs befitting any kind of situation. Speaking of which; I don't know why we haven't played "Stuck With A Rhyme" live for years. Every time we've played it people come up afterwards and tell me "now THAT was a good song!" And now that we dug it out once again, not one but several people told me afterwards how much they enjoyed it. So I guess we've found ourselves a new hit song then! It's not coming off the setlist again, that's a promise! By the end of the set we had the people clapping along to "Agents of the Change" although not laughing at my jokes, which probably just means they've got taste… What probably warmed my heart the most this evening was when I heard we'd conjured up some "festival vibes" with our set. That's the best compliment I can think of because – at least for me – festivals are by far the best place to discover cool new music and party to the bands you already love. Festivals are bliss!
Shout out also to our pals in Kami Mate who just bring the party and the fun to these gigs! It's been a fun few gigs with them and maybe maybe maybe we shall see eachother again…!
And last but not least, my dear friend and lighting wizard Tim who didn't hesitate for a moment when I asked if he could "shed some light on our situation" (ping my daughter: "Dad joke!"). Aided by his compatriots Max and Samu, they really set up a cool atmosphere at the "dungeon-y" venue. Thinking of future collabs with you guys already!
Peace & Love,
Jon