Today, on October 12th, Lazlo of BlowUpRadio.com releases his annual Banding Together benefit compilation for the Spondylitis Association of America. And for the first time, The Fisherman & The Sea are prominently featured on this whopping 35 song compilation featuring indie artists from the New Jersey area as well as – like in our case – just a little further away... You can get all of the songs for just 10$ which amounts to something between 8-9€. All of the proceeds will go towards charity. Check out the track list and download right away here!
Lazlo has been a huge supporter of our band since our first EP and just this week he featured our monthly e-mail list special, a track called 'Taking Back Thursdays' on his show. The Banding Together benefit compilation also marks the fourth time our songs have featured on one of his curated compilations, with 'The Funny One' featuring on Rock Against Hate, vol. 2 just this May. 
For Banding Together Lazlo asked us if we had a song that he could have as an exclusive until January. Well, yes we did – and we told him he can have the track as an exclusive until at least April, because that's when our last EP from this album cycle is probably going to come out, at least as far as I know now. It's a track called 'Suiciders' and it's actually the other of two quintessential songs without which I would've never started The Fisherman & The Sea, the other track being a song called 'The Undertaker' from the upcoming album. The only reason 'Suiciders' is not on the album is for the fact that alongside the Loota cajón drumkit which we use on (next to) all of our songs, there's also an actual drum kit on it which would disturb the unique dynamic of the album too much, I feel. It's one of my absolute favourite songs that I've written though and an absolute beast to play live (yes, we are playing it tonight at the Superwood Festival and plan to do so at every show from here on out!). I believe 'Suiciders' has found an amazing home for the next half year on the Banding Together compilation until it will appear on our final EP in the spring or early next summer.
Putting together such a massive compilation is an incredible amount of work though, and the compilation is by far not the only thing that Lazlo is kicking up today and in the coming weeks. What that is and why he is championing a little known indie band from half a world away – Helsinki, Finland – he'll tell you all about it in this rare and insightful interview! He really is a remarkable man with an important story to tell.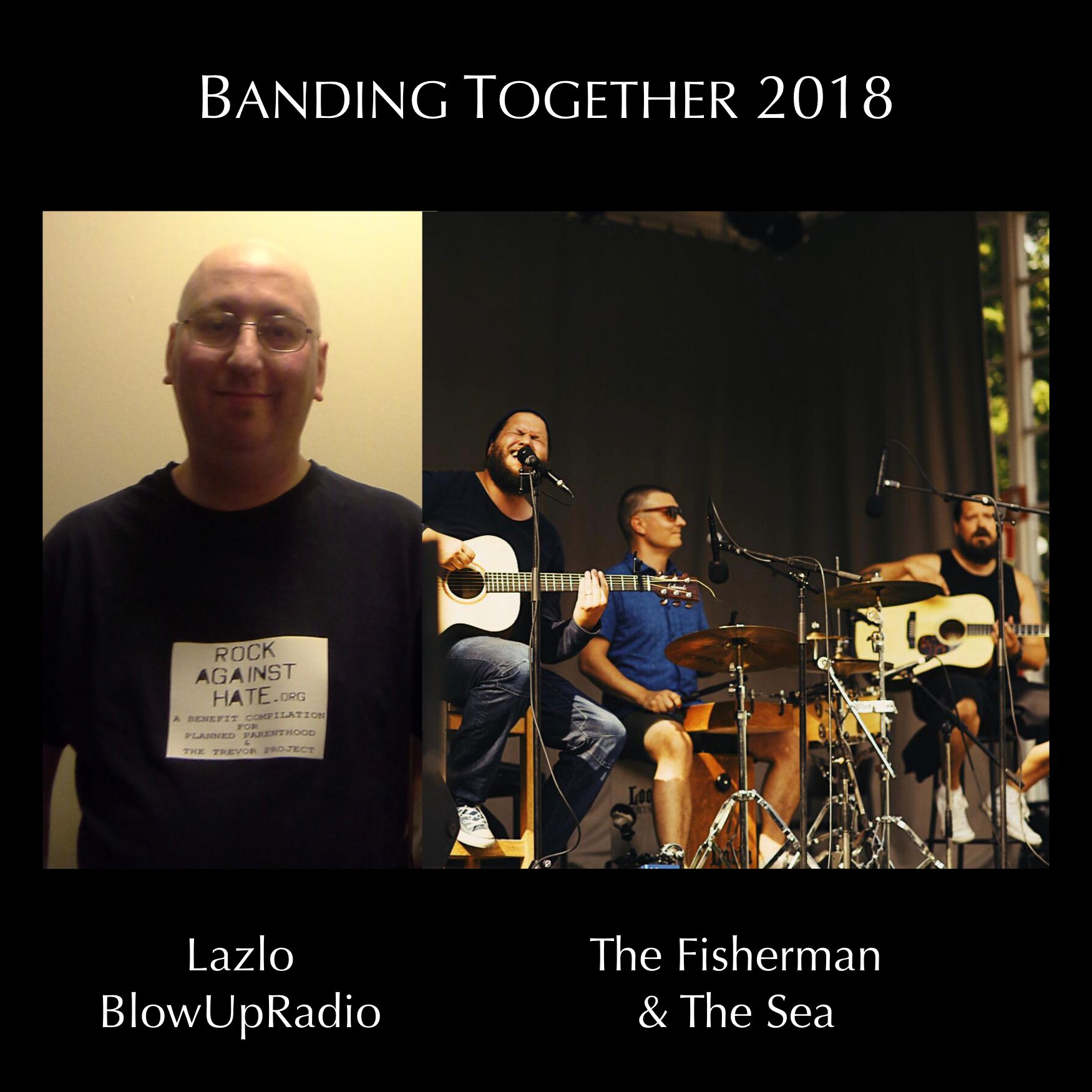 Jon: "Banding Together" is a benefit for the Spondylitis Association of America. What is spondylitis and why make this in particular the object of such a huge annual benefit endeavour? 
Lazlo: Spondylitis is a genetic, arthritic, rheumatic disease that causes inflammation in the spine and ribs, and can cause fusion of the spine. That is a very basic overview. There are far more detailed explanations, by medical experts (which I am not), on the Spondylitis Association Of America's website, www.spondylitis.org. 
As for why I do this, my wife was diagnosed with spondylitis over a decade ago. At that time neither of us had heard of the disease. She reached out to the Spondylitis Association Of America for information, and found them to be an amazing resource that helped us better understand the disease, and put her in touch with doctors that were well informed about the disease. Over the years of doing Banding Together benefits, more doctors have been diagnosing spondylitis, which has led to greater awareness of the disease. The Center For Disease Control estimates that 1 in 200 people suffer from spondylitis. 
Jon: "Banding Together" is not only a compilation. There are a lot of other things, like a webathon and live shows, being organized as well. What can we expect from those? 
Lazlo: Banding Together is a multi-faceted benefit. There are three concerts happening in New Jersey (USA), with a myriad of local musicians performing. Since the bulk of the people reading this are probably not going to be able to make those shows, we also have a 3 day benefit webathon. From October 19th thru 21st, there will be 40 musical acts performing live in the studio on BlowUpRadio.com's internet station, which people can listen to anywhere in the world. This has become a hugely popular event both for the musicians and listeners, and it allows us to have a lot of fun, while simultaneously reminding people they can donate to the Spondylitis Association Of America via a donation link on BlowUpRadio.com that goes directly to the SAA's secure servers, and any donation of $10 or more gets them a download of the 35 song compilation. 
Jon: There's 35 (!!!) unreleased songs on the "Banding Together" compilation. Together with everything you've just described all of this sounds like a gigantic undertaking, and I happen to know that this is not the only benefit you organize during a year. F.ex. "Rock Against Hate, vol. 2" came out in May. How do you do it? How many months ahead do you have to start planning for this? Do you do this all on your own or do you have help from other people or organizations? 
Lazlo: Yes, it is a lot of work doing compilations and benefits, but I can't imagine not doing them. It is very easy to feel powerless when there are things you cannot control or fix, for example seeing my wife in pain from spondylitis and not being able to make it better. I may not be able to make her pain go away, but with the Banding Together compilation and benefits, I can raise money for an organization that is at the forefront of educating and helping to find a cure for the disease. 
As for how I do it, I ask. I am very lucky to know a lot of musicians, both locally here in NJ, and around the world, that are happy to help out by donating a song, and if they are local enough, being a part of the benefit concerts and webathon. 
I generally start planning three to four months in advance. Hopefully giving artists enough lead time to be involved in the benefits in some way. Some musicians have been involved with Banding Together every year, and actually reach out to me in advance of me contacting them. 
There is always help in putting together any of the benefits I do. Obviously, there are many musicians who help, by donating their music and performing, without which there would be no benefits. In addition, my wife helps with some aspects of the benefits, there are several musicians who have helped a great deal in securing the venue and booking some of the benefit concerts, and I am in constant contact with the Spondylitis Association Of America to coordinate everything. I cannot stress enough how it is only through everyone banding together (hence the name) that the benefits are possible, and I am so grateful for everyone that is so gracious in helping. 
Jon: How do you select the artists you want to feature on the compilation? Is it hard to get artists to participate in this kind of benefit? 
Lazlo: I've probably said this several times already, but I am very lucky that so many talented musicians want to participate in Banding Together. Each year I reach out to musicians whose music I like and play regularly on BlowUpRadio.com, as well as posting about the benefits on social media. The number, and quality, of submissions that come in for the compilation is a real testament to how many amazing musicians are out there, that are also wonderful people who want to help. 
Jon: This is the fourth time (wow! Thank you!) you've featured our music on one of your compilations. With the vibrant music scene in your native New Jersey and the US as a whole, why champion a small indie band from the (relative) global backwaters of Finland? 
Lazlo: While BlowUpRadio.com was primarily started to focus on the New Jersey's independent original music scene, I have always had programming about music from outside on NJ. I like to support good music, which is a subjective term I know, but good music doesn't come from just one place. I am always seeking out new music from a myriad of sources. I believe I discovered your band through Noisetrade, and while listening to that first EP I knew this was a band I couldn't wait to tell people about. That feeling of discovering amazing music and wanting everyone to know about it, that is why I do BlowUpRadio.com. It's not for financial gain (I lose money doing the website & station), it is not for fame (I would rather people remember the music then remember me). I do this because if I like a band I want to share it with others... though that may be in part because of the band builds a bigger audience they are more likely to put out more music.
Jon: Thanks Lazlo for the answers and the amazing amount of work you have put into this compilation as well as your continued support of indie musicians from around the world! You make this a better world for all of us.
-Jon