Hey everyone!
Man, it's been a couple of mad weeks in the world of The Fisherman & The Sea! I would never even have dared to hope for all the attention that all you people who came to the gigs and followed us on the internet suddenly threw our way. That was such a wash of positivity from your part it totally caught us off guard. I mean you have to know that the guys – Tuukka, Karza – and me have been in a band on and off for more than 15 years now, and way back in the early Noughties we worked our asses off (or so I'd like to think) just to get the attention for our music that we got with our first show as The Fisherman & The Sea. I'd like to think the music was good way back when as well, but it's funny how these things work out. Maybe we were just in the wrong place at the wrong time. Dunno. If you're wondering what the hell I'm talking about and don't mind lyrics in Finnish, just go here.
But anyway, basically all I wanted to do with this first mini tour was to take my songs out of my bedroom and into the streets of my hometown and see if anyone takes a fancy (or takes offence!). But I didn't want to do it alone, because the two slots I played at the singer-songwriter nights at Samettiklubi in the spring really did weird me out a bit. I realized I was so used to having my brothers-from-another-mother Tuukka and Karza around that I just straight up called them up and asked whether they'd like to tag along for another issue of The Ride. 'Course they did. Despite them being busy and working on other projects as well. They still said yes. Which means they're still a bit crazy. Bless their hearts.
So during the summer we rehearsed eight songs as a trio, those same eight songs we played at all the gigs except Rööperifest (only five songs). We thought about getting a bass player as well, but then decided that me playing a baritone guitar already we really didn't need all that low end. We kinda dug how the music sounded a bit light and fresh. And it did work kind of nicely with our street mentality.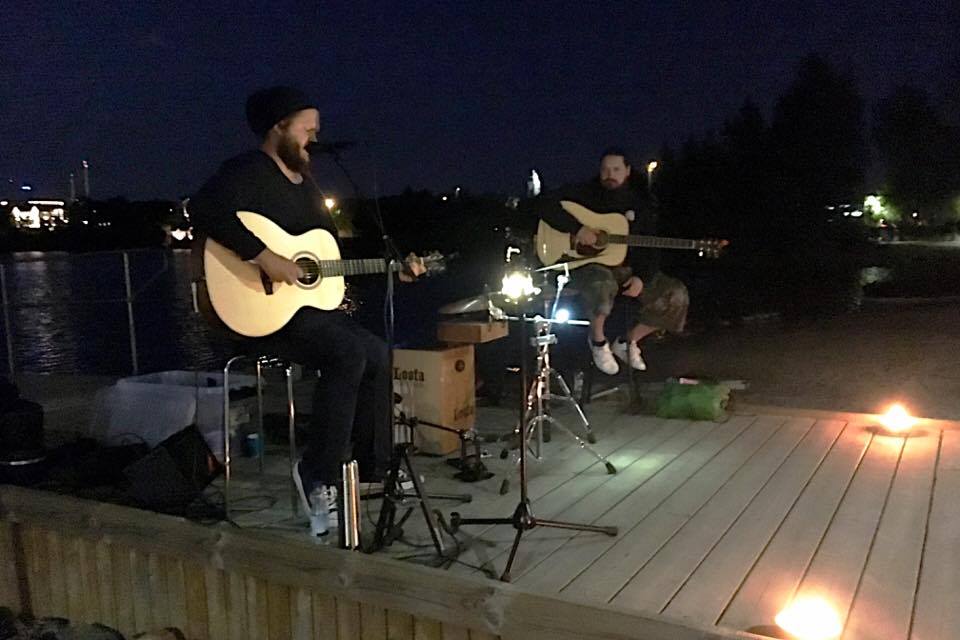 So for the Night of the Arts gig we just packed our street gear and went to the Töölönlahti Bay to see if there'd be a cool place to set up. We decided to go with the jetty. But man, was that a windy evening until the start of the second set! For a moment I honestly thought no-one would be able to hear a single lyric from my mic but only some windy static instead. Turned out well though. Big kudos to everyone in the audience though! That first set must've been dead cold at times. And still you stayed. Can not thank you enough for that!
Right before the second set the wind completely died down and we we're able to light some candles and do a bit of lighting as well. Broke a string on my baritone. Fucking punk rocker that I am. Third set was cool...and started getting chilly towards the end. Just talking weather here though. All of you people kept it such a joyfully warm affair for the duration of all those sets. Such a great way to kick off our tour! Thank you again to all of you who were there and came up to talk to us between sets. Such a privilege to have a chat with all of you!
We played:
01. A Song for the Hills
02. Stuck With A Rhyme
03. Trail of Lies
04. The Fairytale Waltz
05. Ugly
06. Life in the Service of Others
07. Hurry
08. Beggar Princess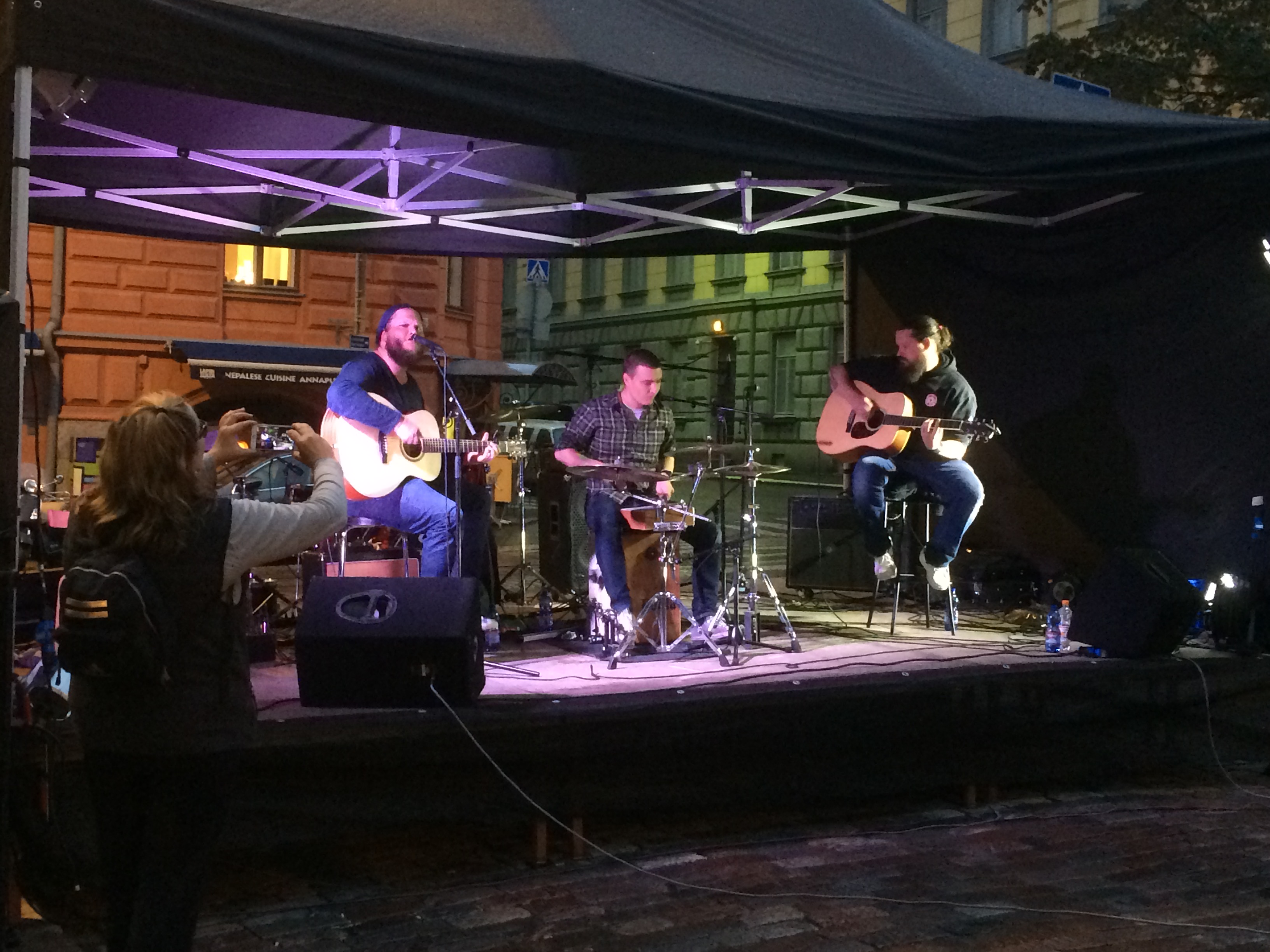 The Rööperifest gig was always a must for me since I live just around the corner and have been a part of the organizing team at the festival for some years now. We literally carried all our gear from my bedroom to the gig. Wish every gig could be just around the corner! Totally would've wished for better weather as well. Always feels kinda wrong sitting under a nice tent roof while the people cheering you along are left out in the rain. What's up with that?! Luckily the weather gods were merciful and didn't soak anyone during our gig (lest you landed nose first in one of them puddles...). The fact that really struck me was that after the gig several people came up to me and told me they'd come just to see us play! Wow. Flashed! That's about the nicest thing you can say to a totally obscure band only just starting out that next to no-one knows about. Thank you. Thank you. Thank you for having that special open mind of your's!
We played:
01. A Song for the Hills
02. Hurry
03. The Fairytale Waltz
04. Trail of Lies
05. Beggar Princess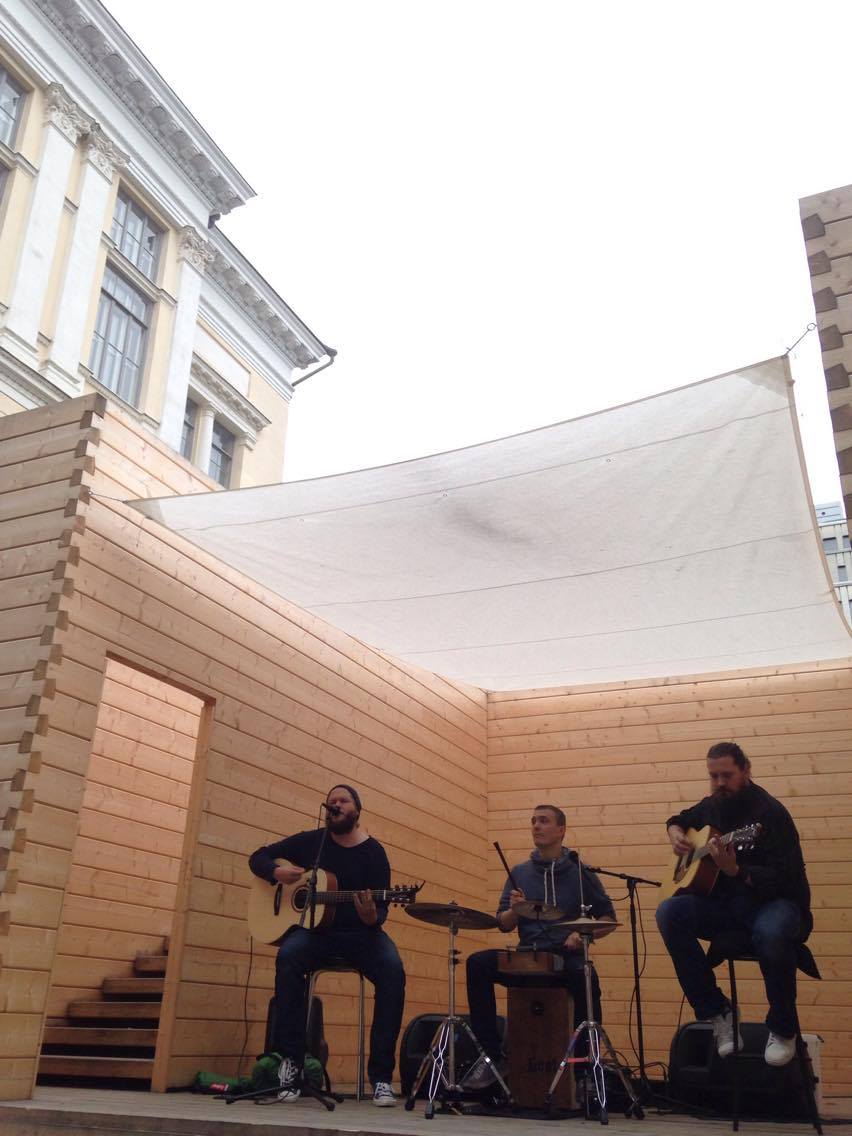 The Hirsitetris gig was a much more spontaneous sort of adventure than the other gigs. Sometime in August I just called the museum(s) up and asked them whether they'd mind us playing in their backyard in that cool timber structure that they'd built for the summer months. They didn't. And man what a cool place to play! I think that might've been our best sounding gig 'til date. Again, could've done with better weather and thus more passers-by stopping to listen, but nonetheless, there's loads of videos on Japanese, German and Slovenian (I think) cell phones of three crazy Finnish guys rocking out in a fucking timber tetris in downtown Helsinki. Something I didn't realize – because I couldn't actually see it for the trees – but someone told me afterwards that a lot of people across the street had their windows open and we're leaning out listening. How cool is that?
But by far the funniest thing was when everyone took out their phones at our request to film us playing Trail of Lies. As you may already know, we used most of that footage shot by the people there for the Trail of Lies lyric video. Wish I'd thought of asking the people at the previous gigs as well.That was a whole lotta fun! Also had time to chat with some of the people in the audience afterwards. Loved it. Go raibh maith agat and Dankeschön!
We played:
01. A Song for the Hills
02. Stuck With A Rhyme
03. Hurry
04. The Fairytale Waltz
05. Ugly
06. Life in the Service of Others
07. Trail of Lies
08. Beggar Princess
Last I'm going to thank my brothers Tuukka and Karza a-fucking-gain, because they're the kind of guys you want around when you're pouring your heart out into your songs. They get it. They get me. And that's a rare thing musically. I'm so lucky to have them and I hope I can twist their arm to play the next batch of shows with me as well. I'll keep you posted on those!
Much love and I'll be seeing ya,
Jon